Welcome to "The Story of Abe"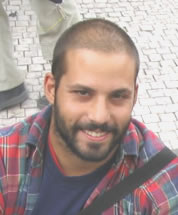 I've tried to explain myself online in a short paragraph before, never with much success. I usually find myself following one of two paradigms. Either I create a caricature of myself or I delve too deep into what's on my mind that specific day.
OK, nice disclaimer, but who am I?
Some details: I grew up in "Near North" suburban Chicago, got a BA in Computer Science from NYU, and then moved to Israel. I'm 32 as I type this, but by the time you read it, that may be out of date.
And, why am I starting this now?
I have two main reasons for starting this now. Firstly, I'm starting a new Web Development, "Link Web Development", business with a partner, and developing my web presence will help with that. (And give us another site in our portfolio) Secondly, I've spent a significant amount of time over the years trying to satisfy my need to create, mostly unsuccessfully. I have in my wake at least four abandoned music teachers, a handful of pieces of short fiction with wonderful beginnings, and lots of squiggly lines that weren't supposed to be.
So, what am I going to create here?
I don't know. This is an experiment that may fizzle out in a couple of days (hours) or it may blossom into something interesting.
In any case, enjoy your peek inside my mind, which is really what we are talking about here; and that's what the name of the blog is about. This is me, not in a paragraph, or one post, but in a collection of posts and thoughts on things I might be interested in today.
Wish me luck, and let me know what you think.
Yours,
Abraham