This is an essay I wrote to help me deal with everything swimming through my head this week.  The last two parts were cross posted on the Ultimate Peace Blog
Part I
I began playing Ultimate, like so many of us, at summer camp surrounded by other supportive non-athletes.  In high school in the mid-90's a group of us played a very loose version of the game in the park on weekends.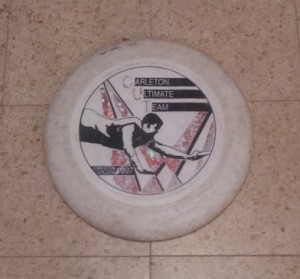 I spent my freshman year of college at Wisconsin, never once hearing the word "Hodag," and never finding my place there.  During the subsequent year, while living back with my parents and working on mind numbing office jobs, I got my first Ultrastar, and unbeknownst to me, my first connection to my future Ultimate family.  One of my closest friends growing up was a student at Carleton College, and he returned home one break with a 1997 CUT disc with the familiar CUT logo in Discraft's "Red Triangle Prism" color in the background and a silhouette of a layout in the foreground.  I still have that disc today, although it has long been retired from use.
I knew no one on the team, I barely knew there was a wider Ultimate community out there, but as with most sports fandom there is always something about that first item you get with a team logo on it.
I didn't follow tournament results in the late 90's.  I don't know how I would have if I had wanted to, or if I had known it was a possibility.  For me Ultimate was still just the game I played with my friends in the park.  That changed for me the following year when I enrolled at NYU as a transfer student.
NYU, like NYC is a ginormous community that one can get lost in very easily.  In the wider NYC picture, I had a built in community of people I knew from summer camp/youth movement.  They were a nice group, most of whom had moved to the city at the same time, but of them I was the only one in school.  [The rest were the usual recent graduates working for NGOs and college dropouts making piles of cash with internet startups.]  So, as any good college student does, I went to the club fair and came away with only one option that grabbed me: NYU Ultimate.
NYU was new to the Ultimate scene.  They had just taken the team into the University's fold as an official club, and one of the first things we did was to come up with a name.  We initially wanted NYU Violence, a take on the official NYU Violets sports teams, but for some reason the administration didn't like that Idea.  We stuck with the color theme and went with the next best Purple Haze.  When the women formed their team a couple years later, they totally rocked the name game with Violet Femmes.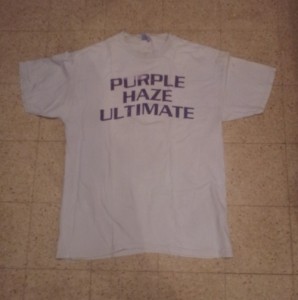 Purple Haze was my family during my time in New York.  We practiced a couple times per week, and traveled to tournaments together.  We were battling everything together.  It was a fight to get a van from the University to drive to tournaments.  It was a fight to get everyone together.  We were each studying different things for different reasons spread out over an expansive and ill defined campus.  We were a mix of undergrad and graduate students, budding artists and soon-to-be lawyers.  We were different ages, different cultures and different genders.  But somehow we were able to come together and create a team that I think we were all proud to be a part of.  It was a fight to get uniforms.  Our first uniforms were leftover soccer shirts, followed by cotton t-shirts we printed ourselves.  We never had team shorts while I was there.  It was a fight to get practice space.  We spent most of our time together at East River Park in the shadow of the Williamsburg Bridge, dodging all the usual New York park fare: Latin baseball players, prophylactics, paraphernalia, and the like.  When we were able to get out of the city for tournaments, the other teams were perfectly nice, but we were not yet competitive on the field.
At NYU in the late 90's, we were so wrapped up in our own team and our own section that reagonals were a far off pipe dream of a goal we set for ourselves.  I don't remember hearing the word nationals.  It didn't matter.  Our goal was to play our best together, and I think we accomplished that, or at least we did in the rosy glasses of nostalgia.
Part II
I graduated mid-year, and missed out on my third season of Purple Haze.  I moved from NYC to Jerusalem a week after my last exam, two weeks before my official graduation date and six months before any graduation ceremony.  My move to Israel was also about community.  Since moving here at the tail end of 2000 I have lived in a Kibbutz, an intentional community where all of the members share both our incomes and expenses.
Ultimate in Jerusalem at the turn of the millennium was, as it still is today, a couple of scattered pick-up games.  A Friday afternoon at the park at the bottom of the hill that holds the Knesset (the Israeli Parliament) is a wonderful way to end the week.  The games were informal, with myself and a friend who had captained Hampshire's Red Scare as the most experienced players.  What made that little community unique was the variety of dress the players changed into at the end of practice.  From the green of an Israeli military uniform, to the black suit of the Ultra Orthodox, to the flannel and denim of the recent American immigrant we transitioned from our different worlds into Ultimate players and then back again, each going his separate way.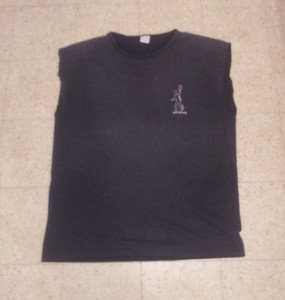 After relocating to Northern Israel, I became involved in founding a team in Haifa.  We were mostly high school aged players and their younger siblings, led by myself and a couple others including a Mancunian who had played at Uni and who's accent only I could understand.   When most of your teammates are teenagers with a loose grasp of English sometimes "Hucking Crazy" is the best idea anyone had for a team name.  We had regular weekly practices on a field that was as much sand as it was grass, and we competed in the only tournament we could – the annual PassOver Israeli Championships.
At our height, we placed third out of 10 or so teams.  My Hucking Crazy teammates are some of my closest Ultimate friends even though I haven't practiced with them regularly in over four years.  A cadre of them were the backbone for the Israeli U20 Open teams for a couple of years.  The older ones are studying now and starting to get into coaching, while the younger ones are trying to keep playing at a high level while serving their compulsory service in the Israeli military.
At about the time that Hucking Crazy started to wane a couple of big things happened within half a year of each other:
An organization called Ultimate Peace was formed and began running programming in Israel and Palestine.
An American woman named Sarah who was doing linguistics/brain research at the Technion started coming to Hucking Crazy practices.
I injured my knee.  I was playing off-point in a three-man cup zone in a HAT tournament.  I tried to slide right while my knee wanted to keep going left.  It was the beginning of a long and arduous journey to convince doctors that I was a real athlete. ["Oh, you build websites for a living?  What do you need a knee for?"]
Part III
Ultimate Peace fit very comfortable into my world view, and from day one I was asking the organizers what I could do to help.  I assumed that would mean office work or other behind the scenes tasks, but before I knew it I was at the first UP Camp in 2010 on a coaching team with two stars of the Ultimate world.  I was sharing a room with two other coaches who were at least a head taller than me and 10 years younger.  I'm terrible with names, and all these really in shape guys walking around without their shirts on all start to blend together for me.  What I remember most about them was that each had, somewhere on their body, a small tattoo of a stylized 'V' or intersecting stage lights or something like that.  It looked familiar, but foreign at the same time.
As I soon learned, this was the mark of the family that is CUT Ultimate.  These guys had a serious bond; you could tell that they had been through a journey together.
I hadn't been a part of that, but it was sort of a circle closing itself, because that was the same logo of the same team on my first disc over a decade before.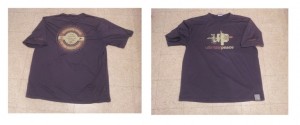 Of course, I would never join that family.  I hadn't been through their season with them from tryouts to Nationals, the road trips, or the tournament parties.  But we did begin that summer to build a new family, with our own shared experiences.  It wasn't punishing conditioning workouts or double game point wins or ten hour car rides.  It was teaching backhand in pantomime and cheering until we were hoarse during mealtime and watching young Jewish and Arab children bonding over a floating plastic disc.  It was sitting together late into the night sharing stories and watching completely bi-lingual teenagers translating the camp director's announcements and hearing all the "thank you"s from the players as they got on their buses to head back home at the end of the week.
There were coaches there that summer that didn't go to Carleton, but that crew and their recent successes at Nationals made CUT a big part of the UP family from the beginning.  There was also a big Seattle crowd that summer.  In the summers since we've had Atlanta represent.   And Boston, San Francisco, LA.  Even NYU: with a couple of ex-Femmes and even my Purple Haze coach from back in the day.
All these people and their communities are now a part of our ever growing UP family.
Most of them leave at the end of the summer.  If they all stayed all year, camp would lose some of the specialness in seeing old friends and meeting new ones.  Those who stay, or were here to begin with, embark on the other side of UP's presence in the region – The Ongoing Program.
Part IV
The coaches with UP's year round program are always an eclectic bunch.  There are some transplants from the US, like myself.  There are local Israeli born players.  And there are the foreigners, the Americans and Europeans who are in the region temporarily for anywhere between two months to four years.  These three groups come together to create a cadre of coaches who travel everywhere from Jericho to Tamra, from Binyamina to Ein Rafa, and many places in between.
We drive together, coach together, gorge on humus and shwarma together.  We share in the ups and downs of a yearlong program coaching in all these communities.  We share stories of little kids with amazing forehands, or shy players coming out of their shells.  This is a family that goes on a journey together.
Sarah came to practices with Hucking Crazy sporadically at first; she was not totally settled in Haifa yet.  She began coming to local HAT tournaments.  [Local as in National, not as in Haifa.  Israel is small enough that sometimes 'local' and 'national' mean the same thing.] When UP's Ongoing Program started picking up steam, we drafted Sarah and she was right on board committing to regular weekly practices and scaring the other coaches with her carefree attitudes about driving.
Her smile always lightened up a practice, and her intensity gave it that little extra push.  "Come on, you can do it!"  "Give it a try!"  "Yes!"
There are scores of young men and women who have gone through a UP event and have come out the other side stronger and more self confident because of Sarah.  And there are handfuls of coaches who can say the same.
Her teams at camp were always some of the loudest, and were always ready to go when tournament time rolled around.  She was usually one of the first to start a prank war among the coaches or to support you when you were feeling down.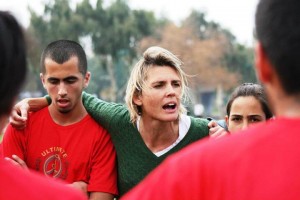 She was also the coach who brought the first team of Arab players, Tamra's Phoenix to a national Israeli tournament in December of 2011.
When Sarah left to return to Los Angles after two plus years coaching with UP, we all felt the loss.  When we heard that she had been diagnosed with cancer, we all felt her pain.
Part V
Time differences between countries sometimes make for different perspectives.  I awoke Saturday morning to the news that three Carleton students, members of CUT on their way to the airport to fly out to a tournament, had been killed in a car accident and two of their teammates had been injured.
I had never met James, Paxton or Michael nor Conor or William.  [To close another circle, William is from my home town.]  I have never heard of them before this week, but Carleton and CUT are a part of my family, so I grieve along with their teammates.  I also piled into cars as a college Ultimate player.  I drive to and from practices and tournaments in various states of exhaustion and weather conditions to this day.  I don't think I have the words to articulate what that kind of loss would feel like.
Across Facebook, friends were swapping out their profile pictures for the CUT logo.
Sunday I woke up to the news that Sarah had passed away.
The UP community exploded with Facebook comments.  Tears welled up in my eyes as I read some of the initial reactions.  "She'll be missed."  "An angel has fallen."   I felt the need to post something myself, nothing too profound, just a little something to acknowledge to the internet that I too was morning my friend.   [I'm wary of virtual relationships, and was a late adopter of Facebook, but I can't imagine how I would have dealt with my Ultimate family being so spread out without that tool this week.]
I had a busy day scheduled for Sunday with meetings and practices.  Fortunately, I had partners with me the whole day.  After our morning meetings and humus in Nazareth, we relocated to a coffee shop for Wi-Fi, which wasn't working.  We hunkered down to business, furiously typing and clicking our way through a long list of tasks.  Periodically as we sat there I would stop, pause, and ask "What are we going to do with practice today?"
Each time, I got the same response: "So you will start with something and then…" But I never heard the next part because THAT was the part I was stuck on.  What do you start with?  How do you talk to these teenagers about this with only minutes to talk and then transition into practice?  He was showing a quiet confidence in my ability to open the practice, and his confidence in me was enough to help me overcome my trepidations stepping into this unknown situation.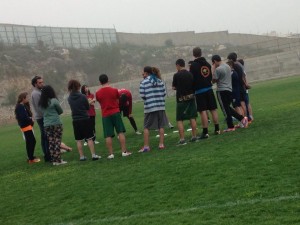 After a few minutes of unorganized throwing and somber hellos, I gathered Tamra Phoenix into a circle for our usual practice opening conversation.  I still didn't know what I was going to say.  To be perfectly honest, looking back I still can't tell you what I said.  I think I talked about family and community and supporting each other.  I think I probably shared a story about Sarah, and I probably said something about honoring Sarah by doing our best on the field for the next hour and a half and on into the future.  But it was probably not nearly that articulate.
Their warm up lap was one of the quietest I have ever witnessed.  The rest of the practice went smoothly, although we could all feel the emotionality of the day weighing down on everything.
I returned home and crashed, physically and emotionally exhausted.  The next couple days were (are) a blur.
Spending that Sunday with partners made it bearable.  Friends outside the Ultimate community have tried to support me, but there is no substitute for the arms of someone who is also experiencing similar emotions.
The UP family and the Carleton family both suffered losses this week.  For me those communities overlap; I can't separate them.
The Greater Ultimate Community lost four dear souls way too early.  How we will honor them will be discussed in the coming weeks and months.  How each of us comes to terms with this loss we will be different, but having a family to do that with makes it just a little bit more bearable.  I hope that everyone is as fortunate as I am to have such a wide and interconnected family to lean on in times like these.